THANKS FOR THE LOVE, MARY!
BAYSTATE SCHOOL OF NURSING ALUMNA GIVES BACK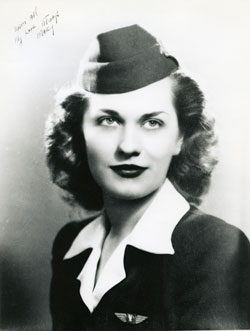 Always helping people, Mary loved Baystate and wanted to give back.
Did you know Baystate Health has a Nurse Residency Program? It helps new nurses successfully transition from being students to becoming professionals. Our one-year program offers handson clinical experience, in-depth training, participation in evidencebased projects and mentoring. Gifts like Mary's help fuel innovations like this — a program that ensures we have the nurses we'll need to provide exceptional care to our patients in the future.
In 1943, Mary Therese Dvarecka graduated from what was then the Springfield Hospital School of Nursing.
Fifty-five years later she made what would be her most powerful charitable gift.
Always a strong annual supporter, Mary established a charitable trust to support the mission of Baystate Health Foundation. In doing so, she ensured her annual support lives on forever.
Passionate about giving back, Mary focused her generosity on three main areas at Baystate Health:
scholarship funds for nursing students like herself;
funds for medical research to help make once life-threatening diseases and conditions just a memory;
funds to support medical services for the indigent.
Gifts from Mary's trust will provide a permanent source of income for areas of care that were close to Mary's heart.
Her loving gift to Baystate Health Foundation also celebrates the love of her life, Colonel Alterio "Terry" Gallerani, an Air Force veteran and her devoted husband for over 40 years. The impact made from her gifts honors both of their memories.
While we knew Mary through her years of loyal annual support, which she continued as she and Terry moved around the country, the news of this powerful and enduring gift was a surprise, coming only after she passed.
Please join us in saying thank you to Mary and Terry — for caring deeply about Baystate Health and for making a gift that will fight disease, support the education and training of nurses and also helps those in need receive quality healthcare for generations to come.
Turn today's giving into a gift that lives on to support Baystate Health. Simply contact Kylie Johnson at 413-794-7789 or kylie.johnson@baystatehealth.org to get started today.