DECADES OF DEDICATION AND A GIFT FOR THE NEXT GENERATION
HOW ONE COUPLE IS CARRYING ON THEIR VALUES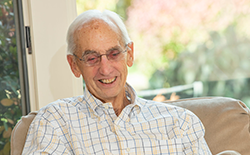 David Woods
To serve as leaders, volunteers and stewards of the Baystate Health mission is almost second nature to David and Evie Woods. Dedicated to Baystate for decades, the couple has now found an additional way to extend their support.
GIVING BACK THROUGH SERVICE
"You can only accumulate so many things in life," Evie Woods told a reporter back in 1998. "You begin to look at your values and realize you can only get [your hours] to mean something from giving of yourself."
Already busy with work and family, for Evie, it was her work as a volunteer at Baystate Medical Center (BMC), particularly in the Emergency Department and cuddling newborns in the Neonatal Intensive Care Unit that added an extra dimension of meaning to her life. Of her decades of hands-on service, Evie remarks, "It's like a runner's high. The satisfaction of helping people."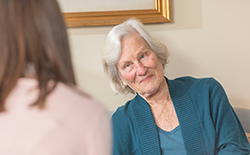 Evie Woods
For David, an insurance agent and business leader, it was the connections he had made and the experience he could bring to the table that drove his service to Baystate for more than 40 years. David served on Baystate's finance committee, as a member of several additional committees and as chair of the former BMC Board and Baystate Health Board.
Baystate Health's lifesaving mission and the compassion and integrity of its leadership inspired David to stay engaged.
"We are so lucky as a community to have healthcare at this level," shared David as he spoke about the medical professionals and specialists available in Western Massachusetts. "It has stayed ahead of the future of medicine, always committed to bringing the best in care."
CONTINUING THEIR VALUES
The Woods have provided many gifts of time, talent and treasure to Baystate Health. This year, they added one more contribution to that list — the inclusion of Baystate Health Foundation in their estate plan.
"We have always made both annual and capital gifts to support Baystate Health, and we want to ensure that our support and dedication continue even after we're gone," says Evie.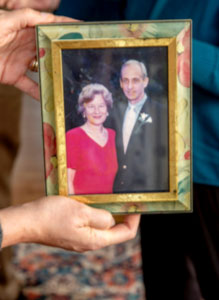 Evie and David Woods started as volunteers for Baystate decades ago.
"We were happy to include a gift in our estate plans because maybe someone will benefit in the future," says David. "People are always going to need medical care, and Baystate is there for people from the first moment of life to the last."
In providing enduring support for Baystate Health, the Woods are leaving a lasting legacy of their own.
"The integrity of this institution just shines through," says David. "We want to help that continue."
Interested in learning more about how you can help sustain Baystate Health for generations to come? We're here to help you make a difference. Contact Kylie Johnson at kylie.johnson@baystatehealth.orgor 413-794-7789 to explore your options.