Nurse's Gift Fights COVID-19 and Provides a Sustaining Legacy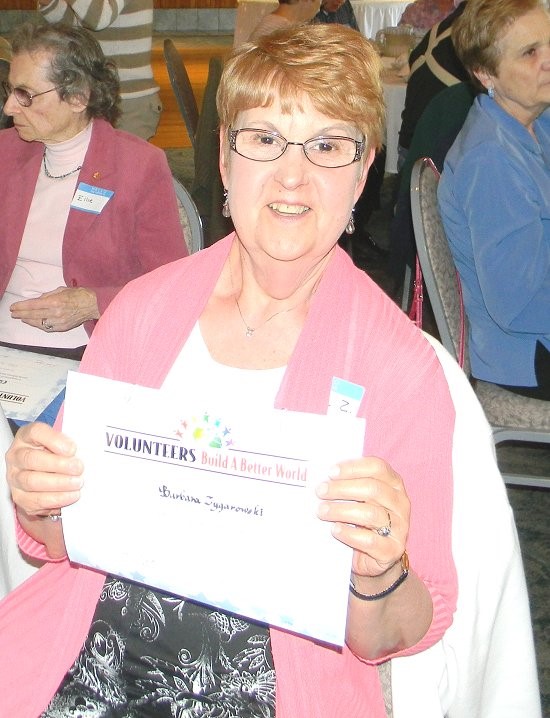 Barbara Zygarowski seen being honored in 2013 for her service as a Baystate Noble Hospital volunteer.
Barbara Zygarowski loved Baystate Health, loved medicine, and loved her career as a nurse.  Her good friend Paul Grennon confesses that he bought and read medical books so he could keep up with her in conversation – she was that passionate about her chosen career.  
"Barbara was meant to be a nurse and when she retired, she returned to Noble Hospital as a volunteer," says Paul. "That's how much she cared."
Barbara cared so much that she included a generous gift to Baystate Noble Hospital in her will.  Part of her gift is now helping Baystate Noble take care of its greatest needs during the coronavirus crisis.The rest of her gift supports the endowment for Baystate Noble, providing financial sustainability for future needs.  
Barbara, who passed away in January 2019, "would have loved seeing the difference her gift is making," shares Paul. "A Westfield native, she deeply cared about the community. She was selfless and would love that her gift is helping keep hospital staff and the community safe during this crisis."  
A graduate of Westfield High School, Barbara earned her credentials as a registered nurse and cared for patients in the Intensive Care and Emergency Department at Noble Hospital for nine years before joining the team at Baystate Medical Center. Her skill and compassion won her many awards, including a Nurse of the Millennium award.   
"It means so much that Barbara chose to leave a legacy to Baystate Noble," says Ron Bryant, President, Baystate Noble Hospital.  "She was part of our Baystate family."  
How Your Gift Helps
Your gifts to Baystate Health Foundation help us improve the health of the people in our communities every day, with quality and compassion. Your generosity provides Baystate Health with the resources to…
| | | |
| --- | --- | --- |
| | | |
| Provide the best possible clinical treatment and improve the quality of life for patients | Educate the next generation of physicians, nurses, researches and other care providers | Bolster access to care, education and preventative medicine for underserved communities |