Milestone Gift Advances Women's Healthcare: Ron and Millie Burkman Establish First Named Endowed Chair for Baystate Health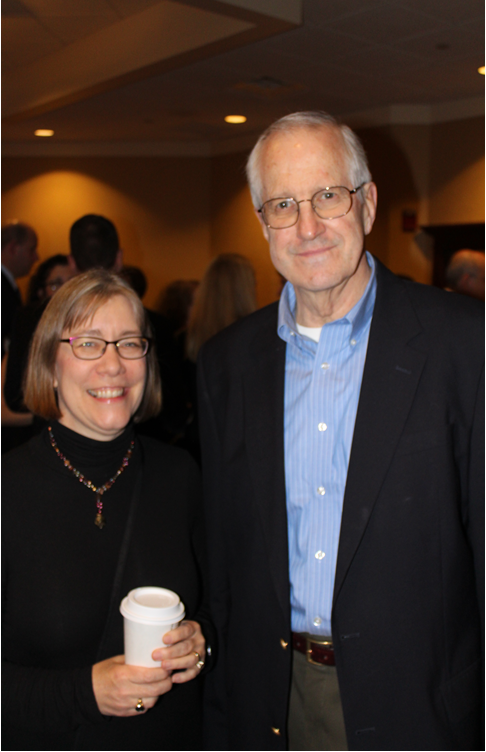 Ron Burkman with Dr. Heather Z. Sankey, inaugural incumbent of the Ronald T. Burkman Endowed Chair of Obstetrics and Gynecology
Baystate Health Foundation Legacy Society member Dr. Ronald T. Burkman loves to share stories about fishing trips with his former colleagues at Baystate Health, or to talk about the latest University of Michigan basketball or hockey game.  Retired to Ann Arbor, he can also tell you about his volunteer work doing contact tracing for the state of Michigan; baking sheets of cookies for the food pantry; babysitting his young grandson with his wife Millie; or teaching residents at a local hospital.  He uses every second of every day purposefully while also knowing how to stop, relax and enjoy life with Millie to its fullest.  
Dr. Burkman is a distinguished physician, researcher, educator, leader, and mentor, who had a long and prominent career in obstetrics and gynecology, including 23 years at Baystate Health, with 12 of those as department chair.  
"I have a special place in my heart for Baystate Medical Center where I spent the greater part of my clinical career and where my wife and I established many close friendships at Baystate and throughout the area," said Ron.
This love for Baystate and deep commitment to giving back led Ron and Millie to make a significant gift to carry on his legacy – the first-ever named endowed chair at Baystate Health, to be known as the Ronald T. Burkman Endowed Chair of Obstetrics and Gynecology.
Proceeds from this endowed gift will support this faculty position in perpetuity allowing the Department of Obstetrics and Gynecology and the chair holder to advance the mission of excellence in clinical care, education, research, and in training the next generation of obstetricians and gynecologists.
A profound impact
Dr. Mark Keroack, president and CEO of Baystate Health notes, "Ron and Millie Burkman's investment in Baystate Health is a milestone moment for our health system. Quality scholarship and training are fundamental to the success of Baystate Health, and endowed chairs signal a strong commitment to these critical endeavors." 
The Burkmans' gift is especially profound for women's healthcare and the impact it will make in women's health research, education and clinical care.   
The Burkman Chair furthers this work and helps emphasize that the Department of Obstetrics and Gynecology at Baystate Health excels at reproductive health and so much more. It will provide inspiration for researchers, educators, and clinicians, as well as hope and healing for women throughout the region and beyond.   
"It was our desire to support the hospital's Department of Obstetrics and Gynecology and highlight the quality of care the entire staff provides for area women, while supporting related educational programs, research and clinical care at Baystate.  It is our hope that this gift will also help to raise the prestige of the department and attract future talented faculty while retaining those already practicing there," Ron added.
A student turned leader
Dr. Heather Z. Sankey, who Ron recruited to Baystate Health and for whom he continues to serve as mentor, has been named the inaugural holder of the Ronald T. Burkman Endowed Chair of Obstetrics and Gynecology. In addition to serving as department chair, Dr. Sankey helped launch the University of Massachusetts Medical School-Baystate campus and continues there as a professor.
"I have known Dr. Sankey since 1995 and she has a pleasant personality, which fares well with patients and staff. She is a team player who is a problem-solver and is someone who listens carefully before making decisions," said Ron.
"It is a great honor for Baystate and our department to be the recipient of this gift. It is special to me because Dr. Burkman has been a role model for me as a department chair.  He has mentored me through many career opportunities and continues to inspire me to be a better physician," said Dr. Sankey.
One of the most prestigious honors an academic medical center can bestow upon a physician for their exceptional academic and scientific achievements is an endowed chair which is funded through a charitable donation.  Each year a portion of the value of the fund is used to support its purpose. Earnings in excess of the annual distribution are used to build the fund's market value, creating the ability to provide continual support of Baystate Health and its Department of Obstetrics and Gynecology for generations.
An outstanding career
Ron joined Baystate Medical Center in 1995, serving as chair of Obstetrics and Gynecology until 2007.  Dr. Burkman came to our community as an internationally-renowned physician, having served as the C. Paul Hodgkinson Chairman of the Department of Gynecology and Obstetrics at Henry Ford Hospital in Detroit and as a professor at Johns Hopkins School of Medicine before that.  During that time, he also trained medical students and future OB/GYN physicians as professor of obstetrics and gynecology at Tufts University School of Medicine, for which, at the time, Baystate served as its Western Campus. 
In addition to directly elevating care and services for the families of western Massachusetts and beyond, Dr. Burkman led a department committed to providing a strong clinical learning environment for medical students, residents and fellows, giving all learners the robust real-world experience they need.  
Dr. Burkman also led the way in active research and scholarship, authoring more than 290 articles, textbook chapters and books on various topics in obstetrics, human reproduction, contraception, and menopause, while encouraging faculty and students to engage, too.  He also provided his expertise as a reviewer for a number of professional medical journals, including the New England Journal of Medicine, Journal of the American Medical Association, American Journal of Public Health, and the American Journal of Obstetrics and Gynecology. 
Honored as Community Clinician of the Year in 2013 by the Hampden District Medical Society, Dr. Burkman was a longtime member of the Massachusetts Medical Society.  He was active at the national level holding several offices in the American College of Obstetrics and Gynecology and served with distinction as a member of the Health New England Board of Directors from 1998-2002.  He used his connections to bring opportunities back to faculty and residents at Baystate. 
For all his accomplishments, Dr. Burkman remains most grateful to his wife Millie, whom he met in 1970 when she was an emergency room nurse and he was an intern.  Ron notes, "I am fortunate to have been supported for over fifty years by my wife. Millie deserves a significant amount of credit for all my success.  We are very proud to be able to make this gift."
A lasting legacy
"We are honored that Dr. and Mrs. Burkman have chosen to support Baystate Health by endowing our first named chair. This gift will support women's healthcare today and in the future, ensuring that we are able to advance the mission of excellence in clinical care and research while supporting patients in our communities," said Scott Berg, vice president of philanthropy, Baystate Health, and executive director, Baystate Health Foundation.
"It is our hope that providing this first endowed clinical departmental chair may interest other donors to make similar commitments to other departments or to endow positions other than the chair," said Dr. Burkman.
---
Like the Burkmans, many community members are thinking about their own legacies and how to shape an outright gift or gift through their estate plans to Baystate Health Foundation to carry on their values and make an impact.  Have a legacy story you wish to share?  Want to know how to carry on your wishes with a charitable gift? Reach out to Kylie Johnson at 413-794-7789 or Kylie.Johnson@BaystateHealth.org for a confidential conversation.
How Your Gift Helps
Your gifts to Baystate Health Foundation help us improve the health of the people in our communities every day, with quality and compassion. Your generosity provides Baystate Health with the resources to…
| | | |
| --- | --- | --- |
| | | |
| Provide the best possible clinical treatment and improve the quality of life for patients | Educate the next generation of physicians, nurses, researches and other care providers | Bolster access to care, education and preventative medicine for underserved communities |