SHARING THEIR LOVE: THE LAWSONS GIVE BACK
LONGMEADOW COUPLE HOPES TO INSPIRE OTHERS TO SUPPORT ACE PROGRAM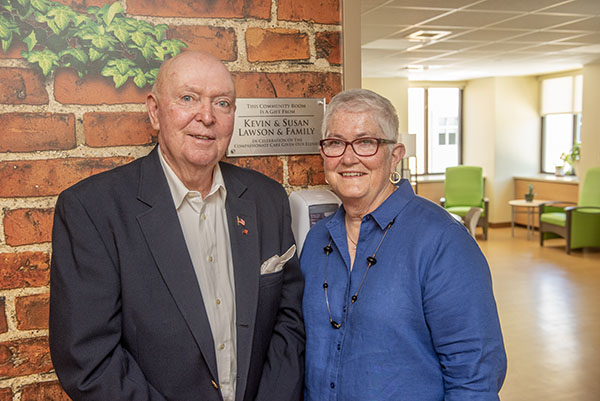 Kevin and Sue Lawson
For Kevin and Sue Lawson, giving back is about the difference they can make by sharing their time, talent and resources.
It's never about the recognition. In fact, the Lawsons usually prefer to give anonymously. They've made an exception in allowing Baystate Health to honor their recent gift to the Acute Care for Elders (ACE) program at Baystate Medical Center by dedicating the community room.
"We believe in the life-changing importance of this care, and it's our hope that our gift will inspire others to support compassionate, innovative care for elders," Sue explains.
IT STARTED WITH SURGERY
Kevin underwent cardiac surgery at Baystate Medical Center in 2005. Sue followed him into the operating room in 2008. Almost immediately, they started volunteering — expressing their gratitude by helping other patients.
"Thanks to Baystate, we were still here — and still are!" Kevin says with a smile.
As a businessman, Kevin joined a committee dedicated to ensuring Baystate Health's future vitality by shaping and promoting legacy giving. Initially volunteering in the Cardiac Rehabilitation Program, Sue was recruited to serve on Baystate's new Patient-Family Advisory Council (PFAC) — and was promptly elected chair.
"I've gained a new awareness of the power of the patient's voice in healthcare — and it's an incredible honor to represent all of the patients who take the time to share their valuable feedback and unique perspectives with us," Sue says. "Together, we're all working to improve care every day."
A NEW MODEL OF CARE
It was through her role in PFAC that Sue learned about Baystate Medical Center's new Acute Care for Elders (ACE) program. The program's specialized approach delivers transformative care and support — from reducing falls and adjusting medications to helping people reclaim their quality of life or make decisions on end-of-life care — in an environment that evokes the happiest times in patients' lives.
This new service resonated deeply with Sue and Kevin, who were caring for their own parents at the time. For the couple, ACE married two passions: helping people meet the challenges of aging and compassionate, excellent care.
"If we can have nurseries with nice music in pediatrics, we should have comfortable and familiar accommodations for our elder patients," Sue says. "The goal is to serve people from birth to end of life in a compassionate and comfortable way."
This past holiday season, the Lawson family — from Sue and Kevin to their children and grandchildren — helped fulfill the ACE Holiday Wish List for its community room, including everything from games and crafts to weighted blankets and free weights for patients and families.
GIVING FROM THE HEART
At its core, Sue and Kevin's gift is their way of saying "thanks" to those who have come before them.
"Providing a safe, soothing space to spend time with one's family and care teams — a place that's in the hospital but doesn't feel clinical — can encourage conversations that help patients make decisions about how they want to live the rest of their lives, and perhaps how they want to die," Sue explains.
"Having helped our own parents with health challenges as they aged, we did not want funding to be the issue that keeps this community's elders from receiving the compassionate care they deserve," she continues. "We give what support we can — and we hope anyone in this community who has helped an aging loved one, or who is coping with the challenges of aging themselves, will join us in giving back."
"Making a gift to ACE is a very small return for the gifts of these patients' lifetimes," Kevin adds. "We need this type of care for a population that has served this community for more than 70 years. We owe them."
SUPPORT WHAT MATTERS MOST TO YOU
You can support quality care for the community by including a gift to Baystate Health in your will or other estate plan. Contact Kylie Johnson at kylie.johnson@baystatehealth.org or 413-794-7789 to learn more.